The Purpose of Presbyterian Women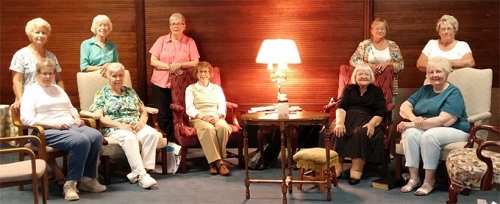 Forgiven and freed by God in Jesus Christ, and empowered by the Holy Spirit, we commit ourselves:
To nurture our faith through prayer and Bible study
To support the mission of the church worldwide
To work for justice and peace and
To build an inclusive, caring community of women that strengthens the Presbyterian Church (USA) and witnesses to the promise of God's Kingdom
Women have always been involved in the life of the church. In the early years, the women's organization was called Ladies Aid Society. It provided labor as well as financial aid to the church.
Names have been changed over the years. We were called Home and Foreign Missionary Society, Presbyterian Women's Organization and United Presbyterian Women, to name a few. Today, we are known as Mary-Martha Circle, Presbyterian Women.
Our budget supports local church programs as well as mission work. Our greatest financial contribution exclusively for mission work comes from proceeds received from our involvement in the Community Thrift Shop, Inc., a not for profit corporation formed more than fifty years ago by six area churches and just recently received our not for profit status.  Through vigorous efforts by a handful of caring and dedicated women, we help support the following:
Carroll County Food Pantry
Habitat for Humanity
Presbyterian Women's Missions
Emmaeus Mission of Logansport
Kokomo Rescue Mission
The Jesus Well
Bibles for graduating seniors
Flora Fire Department
Oasis events
Helping Hands
Buddy Bag Program
Carroll County Religious Education
Geneva Center camp
Care fund
Lafayette Urban Ministry
Our thrift shop has been in business for over 50 years in various locations throughout Flora. In 2015, we moved to a new facility in the historic Dime Store building, thanks to the efforts of Jane and Dick Bishop. This will be our forever home.  The six churches who make up the Executive Board of Community Thrift Shop, Inc. have worked tirelessly to make this facility a revitalizing business in the Flora downtown community.